Metal Sheath Inorganic Insulation Mineral Cable
---Flexible Fire Proof Cable
1. Structure sketch for flexible fire proof cable
1) Cable conductor: It is made up of stranded copper wires, with favorable flexural property.
2) Insulation layer: It adopts high-temperature resistant inorganic insulating materials.
3) Inorganic stuffing: It adopts special stuffing material - inorganic insulating materials
4) metal armour: It is made of mental materials of extruded aluminium tube with favorable corrosion protection.
5) LSHF outer sheath layer
2. The features of metal sheath inorganic insulation mineral cable (flexible fire proof cable)
2.1. Heat resistant
2.2. Corrosion resistant
2.3. Water vapor resistant
2.4. Humidity resistant
2.5. Anti - mechanical shock
2.6. Excellent shielding performance
2.7. Non-smoke, non-toxic and non-inflammable
2.8. Anti-electromagnetic interference
2.9. Long service life
2.10. Strong overload capacity
In addition, BTLY series metal sheath inorganic material cables also possess other features such as large current-carrying capacity, good flexibility, continuous length, simple and convenient installation, and environmental friendly. They are the most advanced, most environmental, the safest, the most convenient for installation, and with high performance-cost ratio fire proof cables throughout the world.
Annex: Technical parameter for 3+1 structure cable
3 cores + 1 core conductor nominal section mm2

Conductor structure core/number/diameter

20°C conductor resistance (R20)Ω/km less than

20°C Aluminium sheathed calculated electrical resistance Ω/km(R20)

3 cores

1 core

3×16+1×10

3×7×1.68+1×7×1.34

1.15

1.83

0.449

3×25+1×16

3×7×2.12+1×7×1.68

0.727

1.15

0.334

3×35+1×16

3×7×2.50+1×7×1.68

0.524

1.15

0.296

3×50+1×25

3×19×1.76+1×7×2.12

0.387

0.727

0.228

3×70+1×35

3×19×2.12+1×7×2.50

0.268

0.524

0.197

3×95+1×50

3×19×2.50+1×19×1.76

0.193

0.387

0.171

3×120+1×70

3×37×2.02+1×19×2.12

0.153

0.268

0.139

3×150+1×70

3×37×2.25+1×19×2.12

0.124

0.268

0.127

3×185+1×95

3×37×2.50+1×19×2.50

0.0991

0.193

0.105

3×240+1×120

3×61×2.25+1×37×2.02

0.0754

0.153

0.0925
According to the BS6387, flexible fireproof cable satisfies the following requirements.
Class A 650°C 3h
Withstand without insulation damage.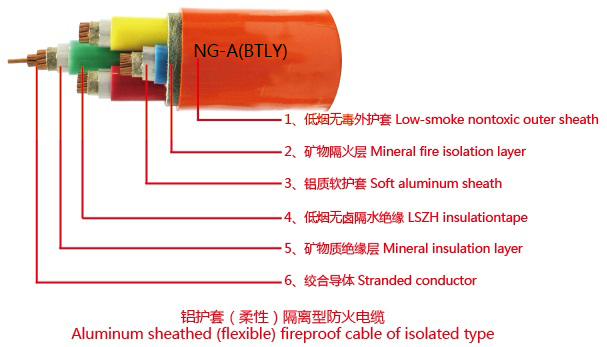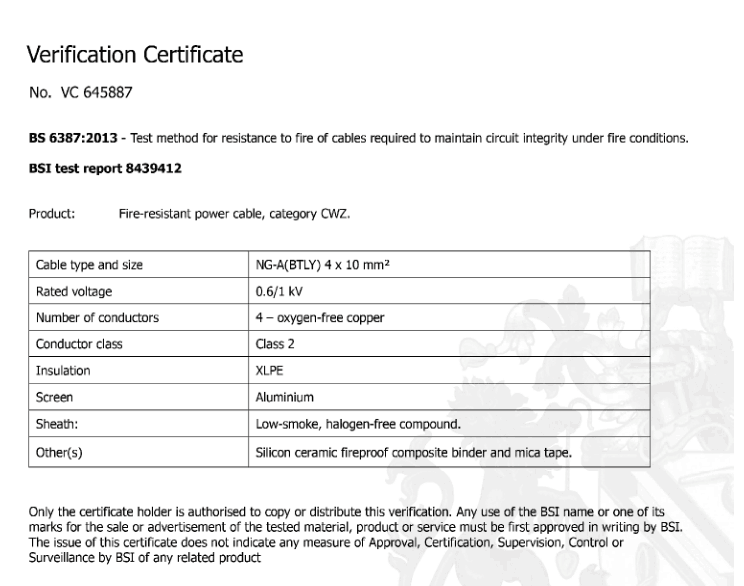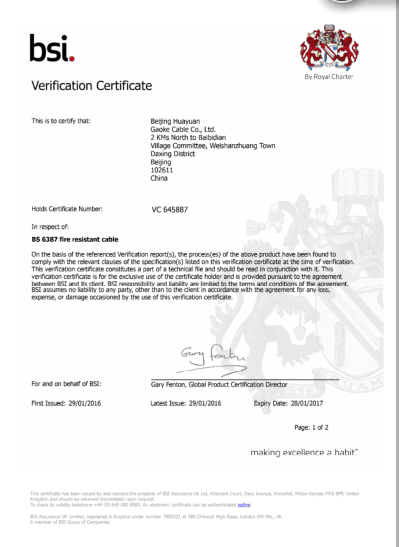 Advanced Manufacturing Equipments
Advanced Testing Equipments

The company introduced the world's advanced level wire & cable production and testing equipment, such as DV-6E spectrum analyzer, online micro pore impurity tester, etc.


Advanced Testing Equipment Guarantee High Quality Production
Packages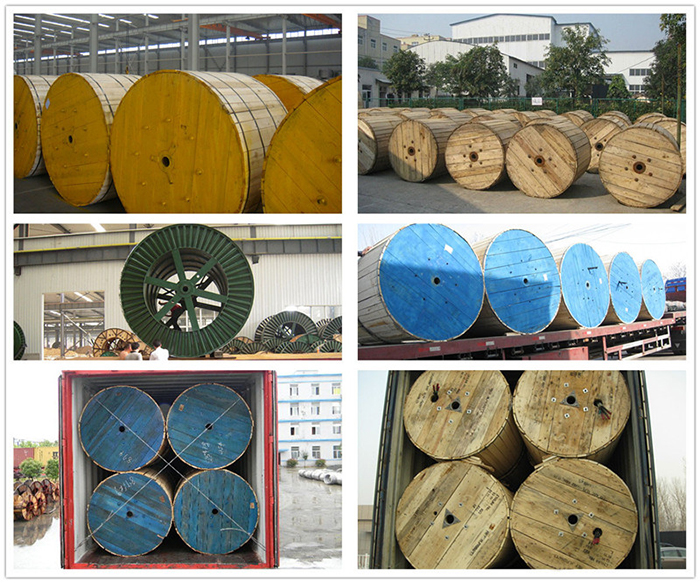 Our Honor
We got trust and praise from all customers by outstanding quality and good reputation. To providefirst-rate products and service for society is the pursuit of staffs of our Company forever. The after-sale service department provides series of before-sale,selling and after-sale, which solve the worries behind for customers and provide complete and rapid service for customers. Customers' satisfaction is the best return for staffa of our Company.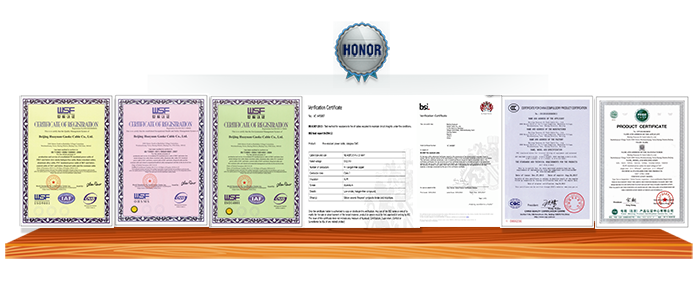 Application
This cable is specially designed for areas where integrity of electrical circuit is critical to maintain the power supply. Application usage can be found in:- emergency lightings, control and power circuits, fire alarm systems, communication systems, lifts and escalators, power stations, underground tunnels, sewage treatment plants, high-rise buildings, mass transit underground passenger systems, airports, petrochemical plants, hotels, hospitals,etc.
Construction
| | | |
| --- | --- | --- |
| Copper | : | Plain Annealed, Stranded Circular Non-Compacted or Circular Compacted Copper |
| Fire Barrier | : | Mica Tape |
| Insulation | : | XLPE (For FR-200) or LSOH (For FR-300) |
| Sheath | : | LSOH |
| Insulation Colour | : | Natural |
| Sheath Colour | : | Orange |
Product Features
Single Core FR-200 Cables
:

IEC 60331-21

SS 299-1 Cat. C

SS 299-1 Cat. C, W, Z (On Request)

BS 6387 Cat. C, W, Z (On Request)

IEC 60332-1

IEC 60332-3-22 Cat. A (On Request)

IEC 60754-1 & IEC 60754-2

IEC 61034-1 & IEC 61034-2

Oxygen Index – Min. 30%

Single Core FR-300 Cables
:

IEC 60331-21

SS 299-1 Cat. C

SS 299-1 Cat. C, W, Z (On Request)

BS 6387 Cat. C, W, Z (On Request)

IEC 60332-1

IEC 60332-3-22 Cat. A

IEC 60754-1 & IEC 60754-2

IEC 61034-1 & IEC 61034-2

Oxygen Index – Min. 30%
Technical Data
| | | |
| --- | --- | --- |
| Applicable Standard | : | IEC 60502-1 |
| Rated Voltage | : | 600/1000V |
| Testing Voltage | : | 3.5KV / 5 min |
| Operating Temperature | : | Max 90º C |
TEST REPORT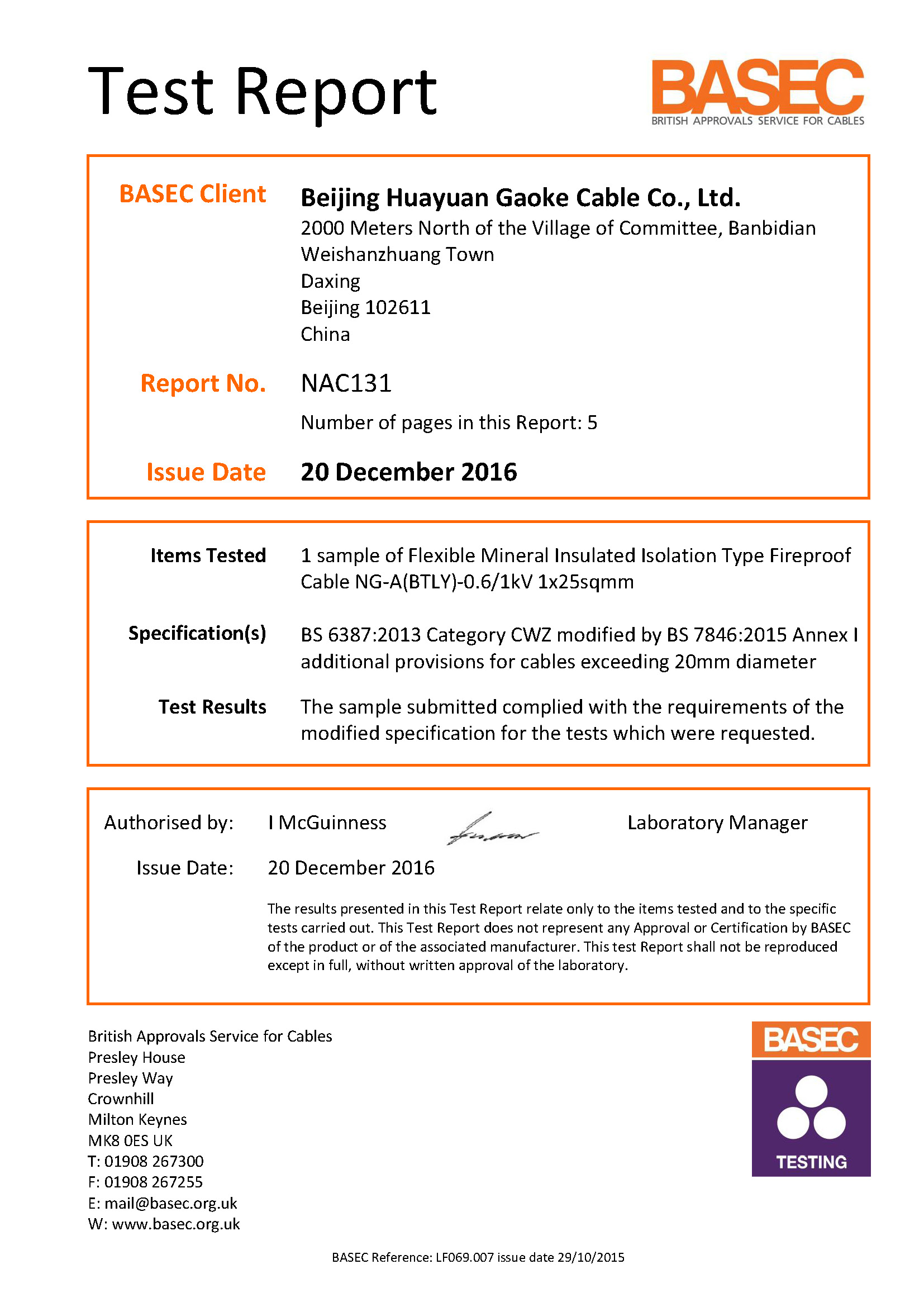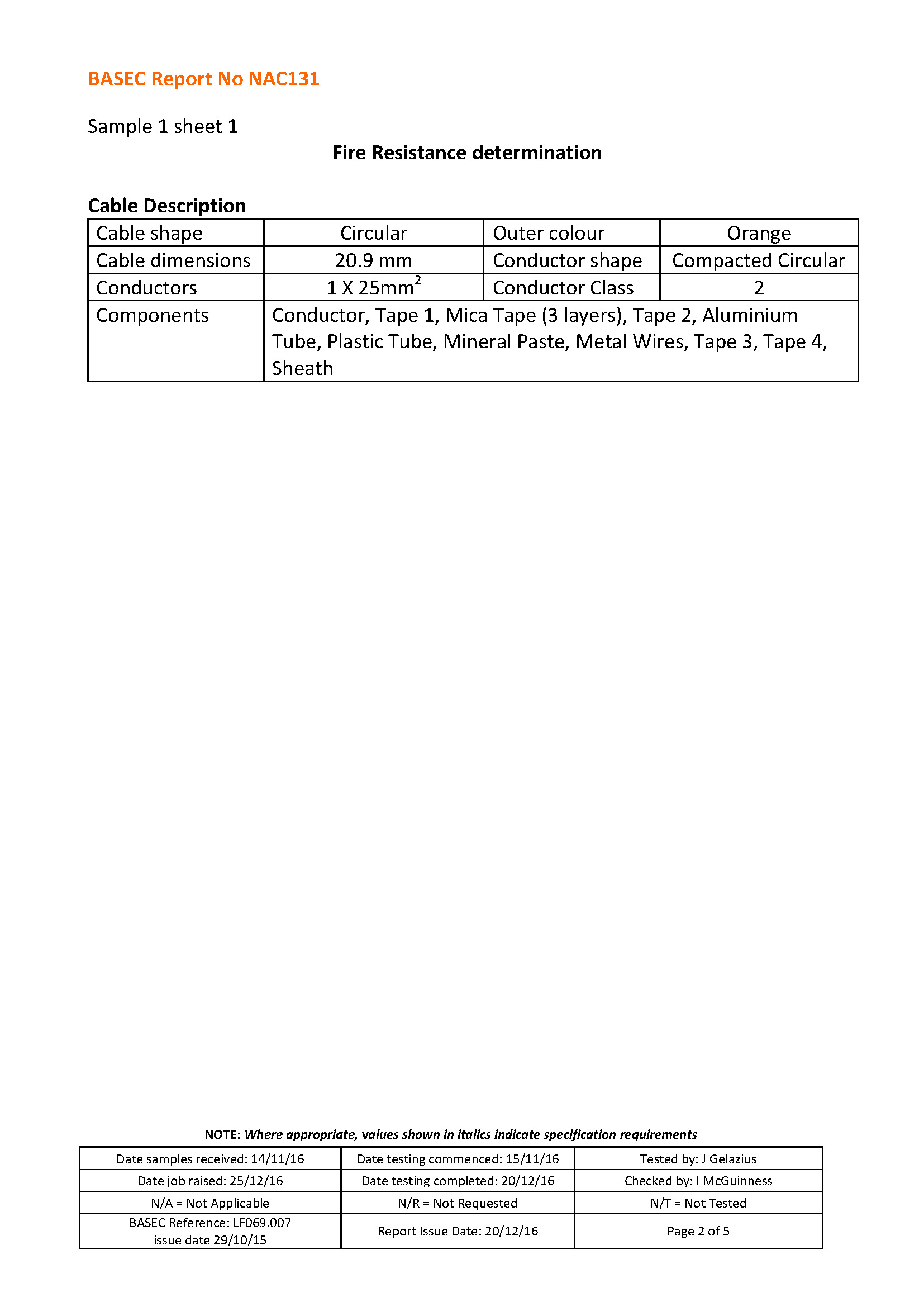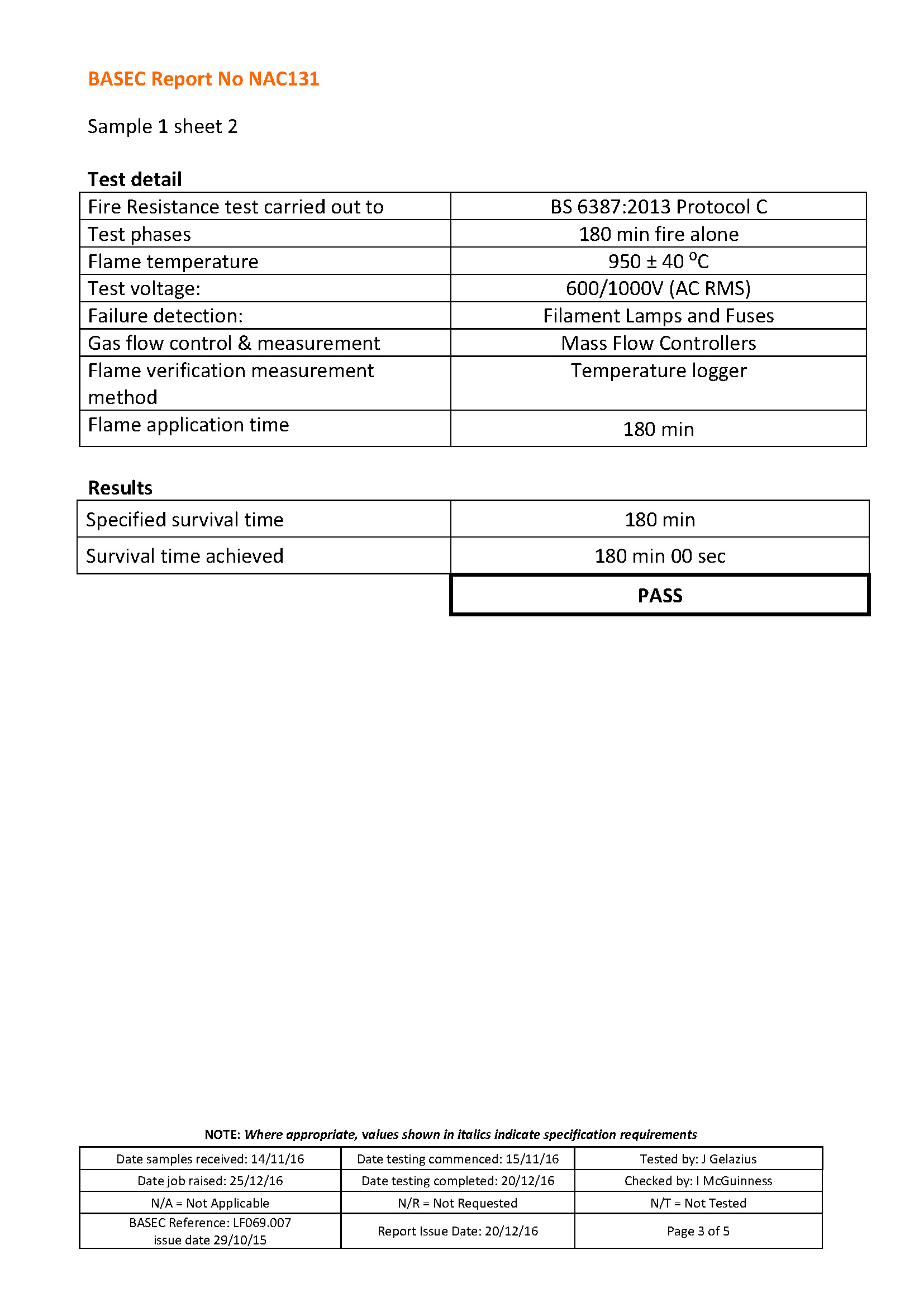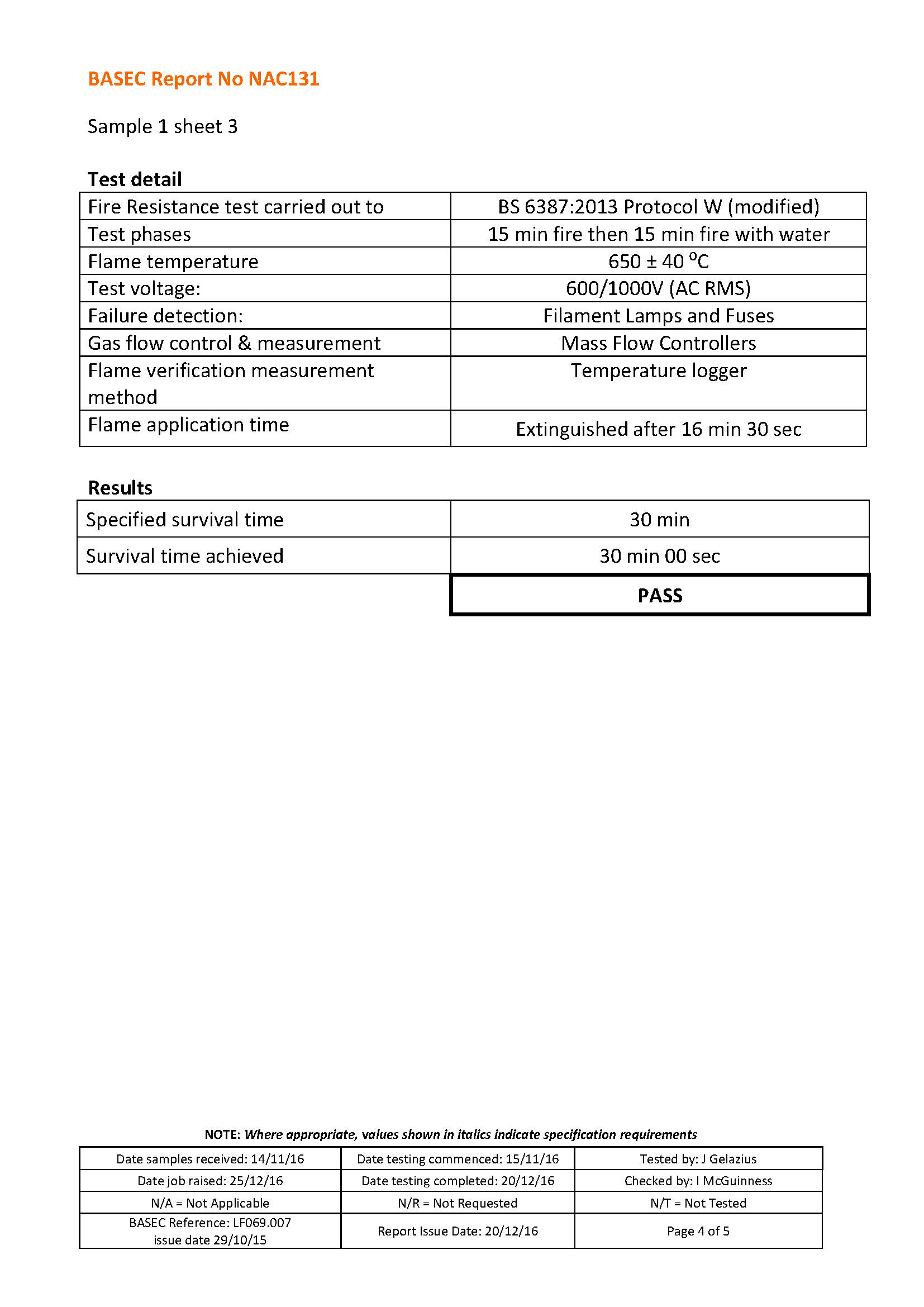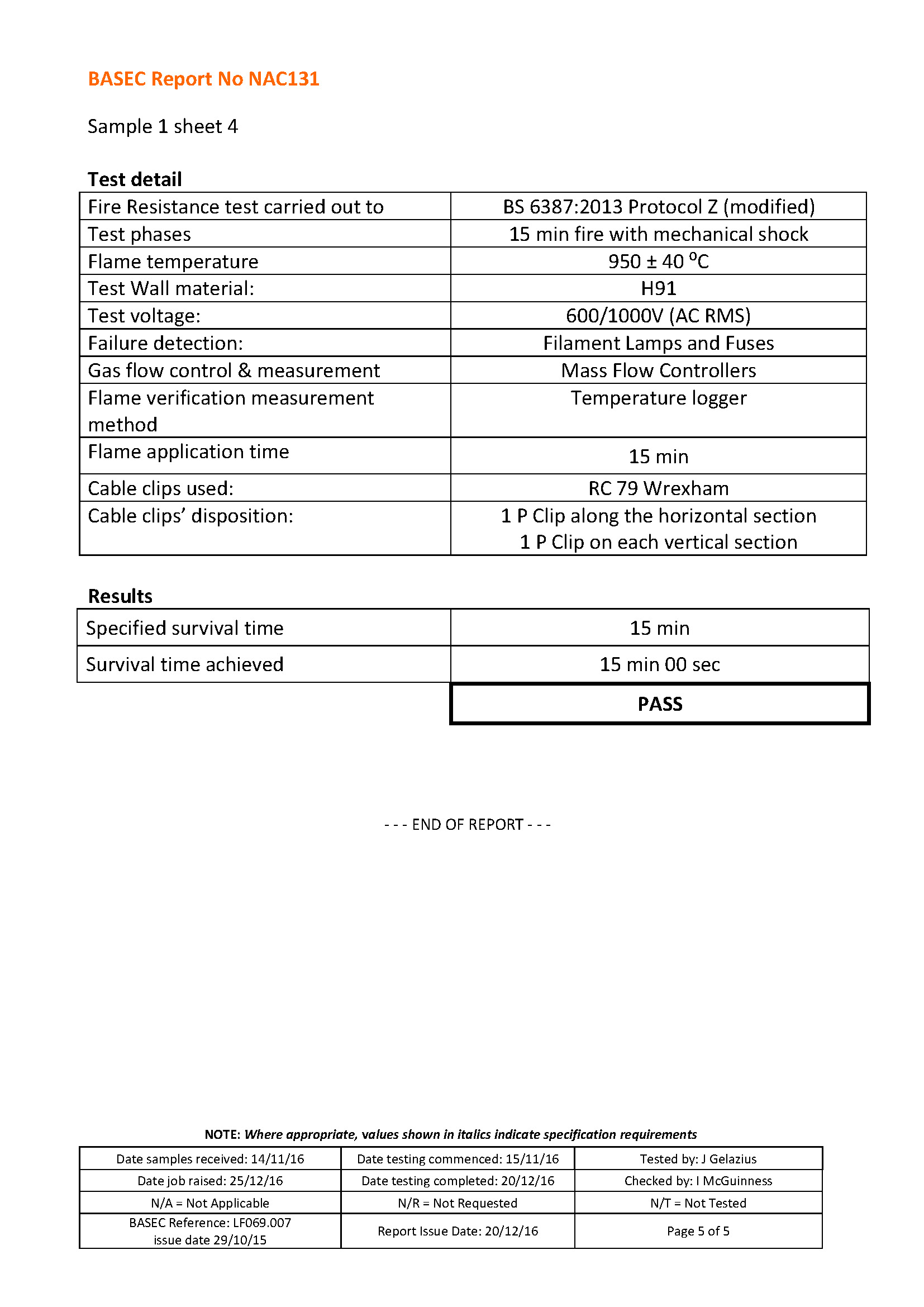 PRODUCTOS POR GRUPO : Cable a prueba de fuego